Bitcoin Verde

Become part of the best
peer-to-peer

electronic cash network. Run a

Bitcoin Cash

server today.
A Bitcoin Cash full-node implementation written in Java.
Robust
Unique codebase increase security of the Bitcoin Cash network.
Reliable and Stable
Fault tolerant and well tested.
For Miners & Peers
Suitable for mining and for network validation.
Multithreaded Performance
Supports over 200 transactions per second.
Built-In SLP-Enabled Explorer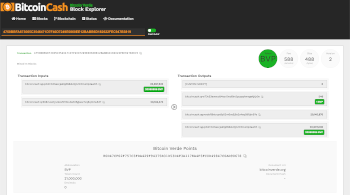 Bitcoin Verde's bundled explorer is integrated directly into the node—no other software needed.
The integrated indexer is compact and fast, engineered to keep pace with network's most rapid traffic.
View a live version at explorer.bitcoinverde.org.
Default System Requirements
2 vCPU
6 GB Memory
300 GB SSD
Linux OS
Java 11
1 Mbps Connection
System specs satisfy the default configuration of the latest release.